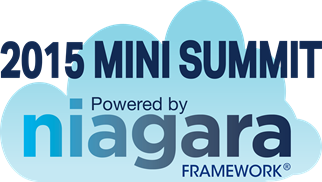 KMC Controls, a leader in building automation systems, today announced its platinum-level sponsorship of the2015 Cochrane Supply Niagara Mini Summit. The Summit will be held at the Soaring Eagle Casino and Resort in Mt. Pleasant, Michigan, June 4-5, 2015. The 2015 Niagara Mini Summit brings together hundreds of manufacturers, integrators and end users from throughout the U.S. and Canada to explore the latest solutions available to Tridium's Niagara Framework community.
KMC has been working with Cochrane to develop its new KMC Converge NiagaraAX application and KMC Workbench. The application, featuring mobile-friendly HTML5 graphics (KMC Converge GFX), can be licensed to any open workbench.
The Summit and release of KMC Converge coincide with KMC's launch of its new KMC Conquest line of BACnet direct digital controllers and appliances designed to connect building automation systems to the Internet of Things (IoT). The new suite of products provide system integrators and building owners with open, scalable, secure building automation solutions from a single building to enterprise-level installations.
"Cochrane has been a great partner to KMC for many years and we are pleased to support them as they advance the Niagara platform and provide exciting new solutions for their extensive integrator network," saidNate Kehr, Marketing Manager.
About KMC Controls
KMC Controls is an American manufacturer of open, secure and scalable building automation solutions. We provide smart, connected systems globally that deliver embedded intelligence and optimized control at the edge.
KMC Controls: Building Genius from the edge to the cloud. [www.kmccontrols.com]