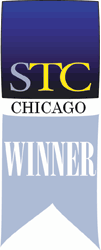 KMC Controls is an IACET authorized provider for a variety of training classes to help customers install and use KMC hardware and software more productively. A KMC online training module recently won a publication Award of Merit from the Chicago chapter of STC. With this addition, KMC has won a total of20 awardsfor excellence in its paper and online publications since 2006.
TheSociety for Technical Communication(STC) is a professional organization dedicated to advancing the arts and sciences of technical communication. It is the largest organization of its type in the world. Its members include various kinds of writers, editors, illustrators, designers, developers and translatorsanyone whose work makes technical information available to those who need it.
The mission of theInternational Association for Continuing Education and Training(IACET) is to advance the global workforce by providing the standard framework for quality learning and development through accreditation. Its history includes development of the original Continuing Education Unit (CEU) and creation and maintenance of the ANSI/IACET Standard for Continuing Education and Training.
The award-winning DDC-201 Connecting KMC Controllers module teaches the fundamentals of making physical connections to controllers manufactured by KMC Controls. Passing the included test is one of the prerequisites for attending a week-long, instructor-led training class on more advanced topics. The module, completed at the students convenience, is part of a four-part basic knowledge series. This online series was developed to replace 1.5 days of introductory materials in instructor-led courses. By saving this time, KMC was able to add activities, advanced topics and assessments to measure student mastery to the instructor-led course.
For information on KMC training, see theTraining Overviewsection on the KMC web site.