KMC Controls, a leader in building automation systems, developed SimplyVAV to address the need for simplicity in digital variable air volume projects. KMC's product abandons the complexity traditionally associated with these projects and offers an economical way to meet the project requirements for either standalone operation or automated/integrated systems. SimplyVAV represents a game-changing approach that saves time and money.
The company was recently presented with the 2014 Control Trends Awards (CTA) honor of Building Automation VAV Controller of the Year for the SimplyVAV line of controllers and sensors. CTAs prestigious awards highlight the people, products and companies that make the building automation industry great. Winning the award is an acknowledgement of quality, innovation and dedication to excellence.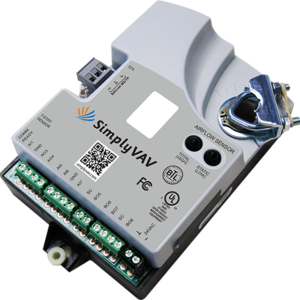 SimplyVAV:
Requires no computer or software. SimplyVAV's companion room sensor is used to set up, commission and balance the controller.
Features built-in selectable applications. There is no programming or coding to perform.
Is designed for standalone application or installation as part of a building automation system. SimplyVAV easily integrates into new or existing open (BACnet) systems.
Addresses single-duct and dual-duct needs. SimplyVAV comes in three models for single-duct application and one model for dual-duct requirements.
Can be used for VVT applications in KMC's Zone Equipment Control (ZEC) system, which consists of a special model of KMC's award-winning Flexstat unitary controller, along with up to 16 KMC SimplyVAV controllers for pressure-independent VAV control.
Is BTL-listed and made in the U.S.with pride.
We knew there was pent-up demand for SimplyVAV, but we have been pleasantly surprised with how quickly it was adopted by the market," said Nate Kehr, Marketing Manager, onSimplyVAVs success. "We are happy to be saving our integration partners time and labor, and to offer them a quality solution that can be counted on for years to come.
For more information on this award-winning product, visit our SimplyVAV page.
About KMC Controls
KMC Controls is an American manufacturer of open, secure and scalable building automation solutions. We provide smart, connected systems globally that deliver embedded intelligence and optimized control at the edge.
KMC Controls: Building Genius from the edge to the cloud. [www.kmccontrols.com]